Happy Sunday Funday! Sundays were made for tailgating! What better day to blog hop and get great new ideas for the week to come! Here at Technology Tailgate, we love technology and want to share that love! We are beginning a Sunday link up to share Technology Freebies. These can be SMART Notebook files, Active Inspire Flipcharts, Power Points, PDF files that correspond to apps or websites, etc.- freebie files that help spread the love of using technology in teaching.
Just a few things we ask-
1. Please link technology related freebies only- no hoops to jump through simply free now and forever
2. Link directly to the blog post in which your technology freebie is mentioned.
3. Add the Sharing Sunday blog button (below) to your post to spread the techie love.
4. The Linky will only be closed for adding freebies at midnight PST each Sunday.
5. Show the other tailgaters some love,

stop by and say hi.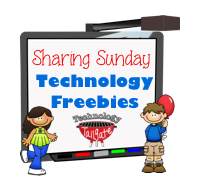 To kick off our first Sharing Sunday, all those posting a technology freebie using the link below will be entered to win a $10 iTunes gift card. Remember the linky closes at midnight P

ST

tonight! We will use a random number generator to choose the winner on Monday.
Pin It