Hello again Tailgaters! I'm Megan, and I'm back again from
I Teach. What's Your Super Power?
So happy to be here again.
And now on to one of my favorite websites.
Glogster Edu
. Glogster is one of those awesome websites where you totally want your students to use it, but maybe you're not so sure how to transition from isn't this cool? To academically valuable. I love Glogster and so do my students.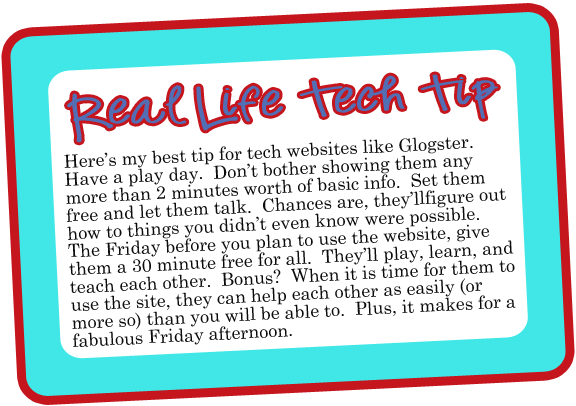 Okay, back to the point. I've used Glogster in a variety of ways in my classroom. Here are a few:
Spelling:
When we have a rule like doubling the final consonant or there/their/they're, one of our spelling homework choices is to make a Glogster poster to teach the rule.
Research:
One of our state standards is research based. After writing a research paper, my kids completed a final project to teach others about their research subject. Glogster was one of the options.
Mother's Day:
This is one of my favorite projects. My kiddos brainstormed the top 10 reason their mom was the best. We then had a great lesson on rearranging sentences (given that 9 out of 10 of their sentences started with my mom or she). After that, they published the list in Glogster. Who wouldn't love this for Mother's Day?
The fine print:
Glogster.edu is not free (and FYI, you definitely want to be on the edu version.) It's $30 a year for a classroom license of 50 uses. BUT something special happened. The last time I posted about Glogster, Stephanie from Glogster contacted me and asked if I wanted to giveaway some 1/2 price subscriptions. Um, yes! So stop by my blog, leave a comment, enter the giveaway, and maybe you'll win!!!
Good luck,
Pin It